Pub crawl! If ever a cruise line was made for bar hopping, it's Virgin Voyages. Its identical "Lady Ships" were imagined as adult playgrounds, and when grownups are having fun, you know alcohol is often a part of the equation. (Not that it has to be.)
Not all bars are created equal, though, and on a short four- or five-night sailing, you have to prioritize. So I vowed to discover which bars are the best on the ship — and which you can skip.
From martinis to margaritas, I tried every bar on Scarlet Lady (the first of the line's three ships) and ranked them from best to worst. Here are my top picks for a night out or a unique libation — and which venues failed to live up to the hype.
For cruise news, reviews and tips, sign up for TPG's cruise newsletter.
Sip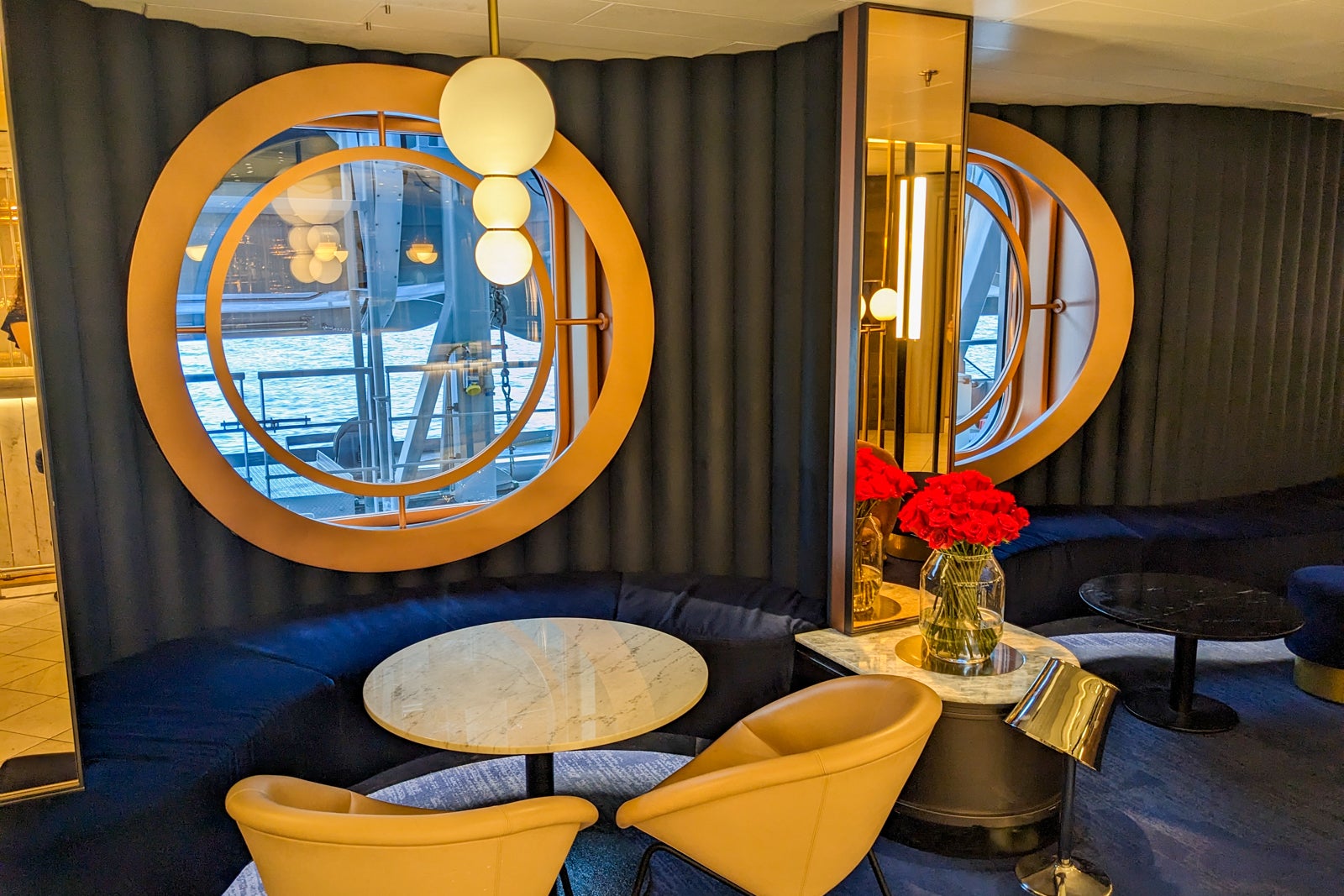 Vibe: This elegant Champagne lounge was my favorite bar on board — and I don't even like Champagne! The venue brings the luxe feel with gauzy white curtains, curved seating centered around giant porthole windows and a giant bedazzled bottle of bubbly. It's the place to see and be seen in the evening; clearly, it was everyone else's favorite bar, as well.
Sip gets extra points because, on sea days, it serves a lovely afternoon tea. Sip tea and nibble scones and finger sandwiches, with or without a Champagne add-on, like the lord or lady you know yourself to be.
Prices: Champagne by the glass runs $21 to $65, wines $8 to $29 and signature cocktails $13 to $14.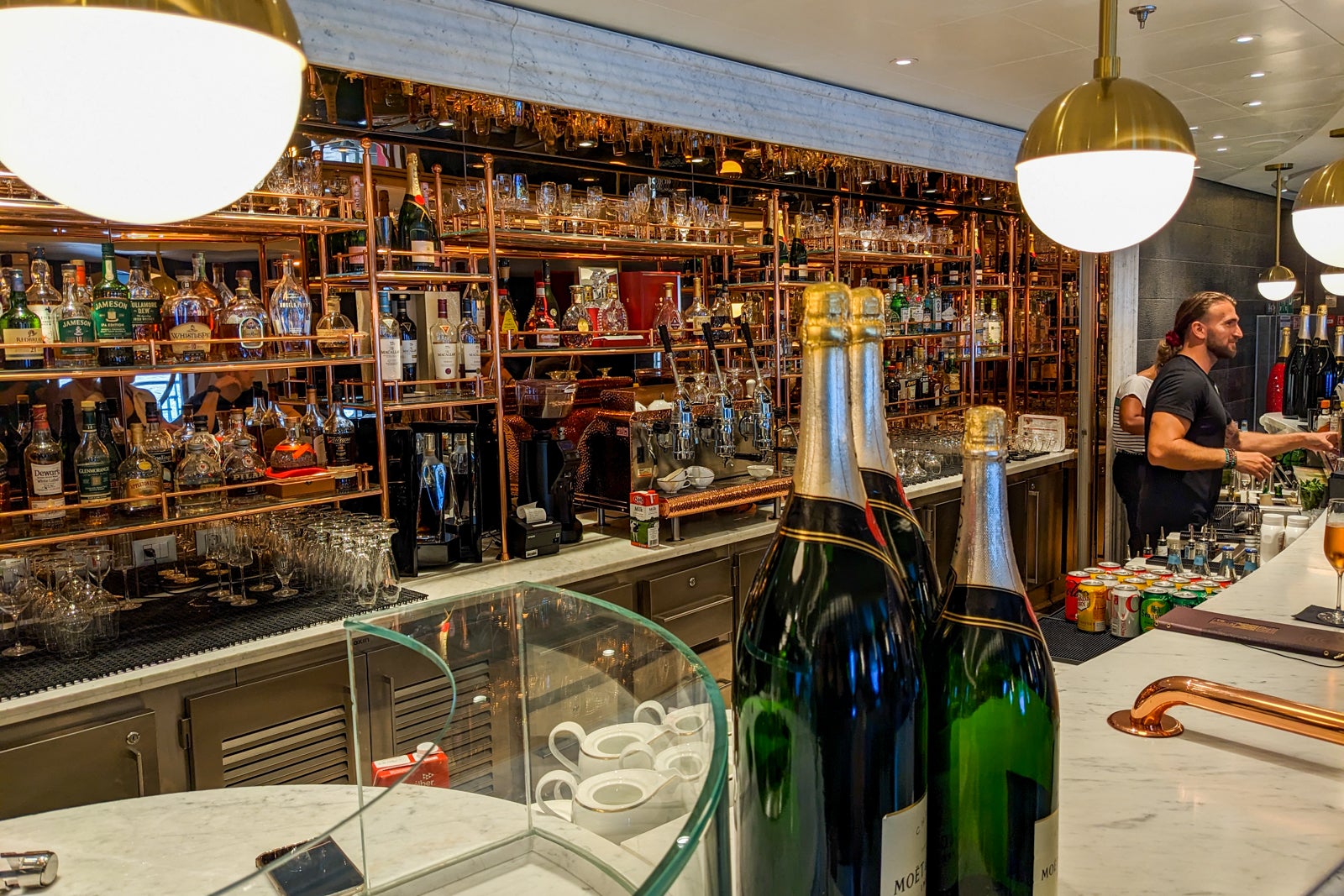 The TPG take: Whether you prefer bubbly or bourbon, this bar is a not-to-be-missed evening destination. Gather your posse 'round between dinner and the show and scope out everyone's evening attire. It's extra happening on Scarlet Night when you might catch an impromptu performance or even get a hush-hush invite to a secret event.
Best drink: If you're not drinking straight-up Champagne, espresso martinis are all the rage at Sip. They'll keep you energized for the late-night partying ahead of you.
Related: The best cruise ship bars
On the Rocks
Vibe: Everyone ends up at On the Rocks at some point, as the martini and cocktail bar is one of the largest on board and is in a high-traffic area on Deck 6. It's under the stairs from the Roundabout atrium and you'll pass it on your way between dinner, the shops, the casino, night club and performance space. Small-group musical acts switch off throughout the evening, so there's always something going on.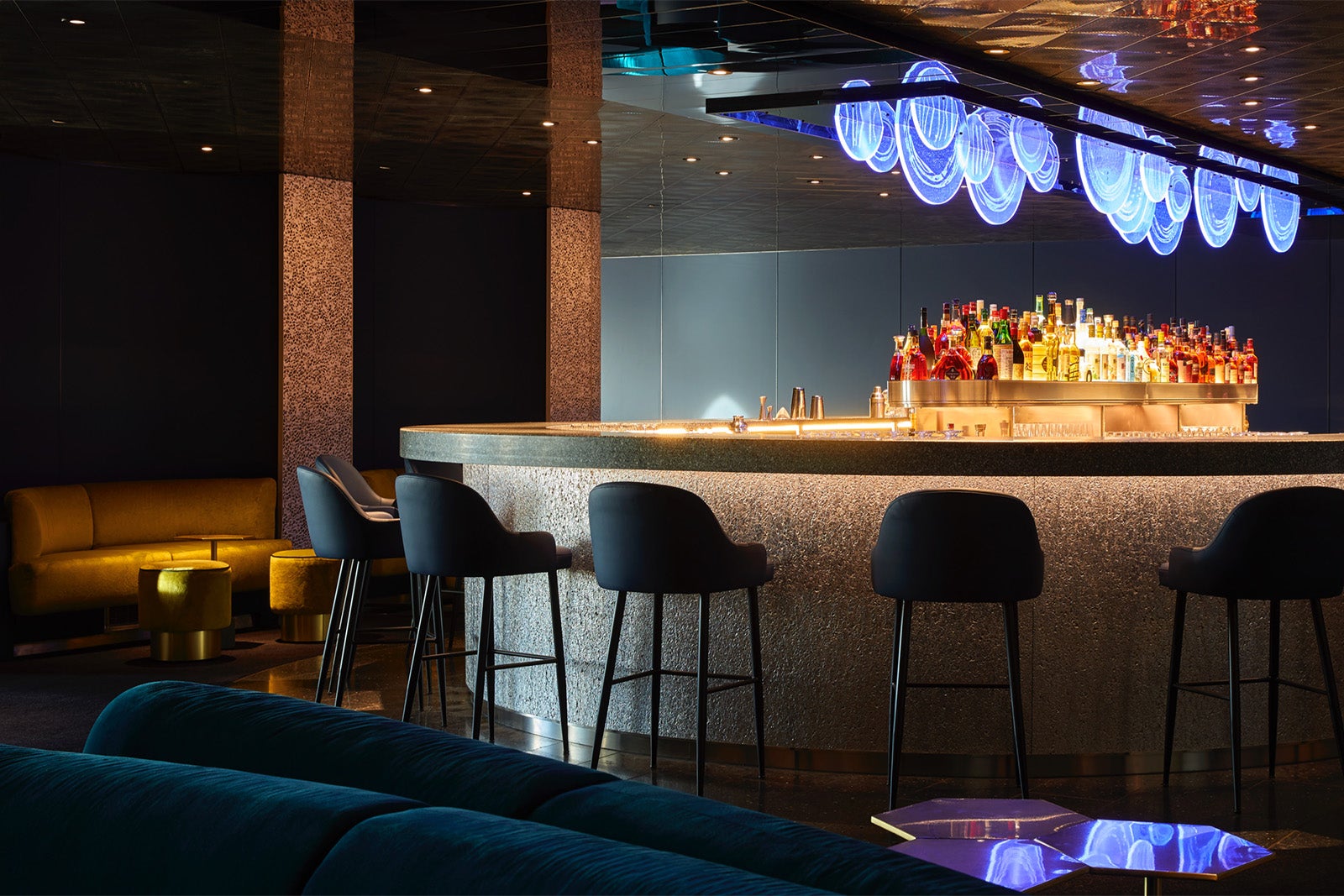 Prices: Signature cocktails cost $13 to $17, beer $6 to $12.
The TPG take: I didn't hang out at this bar enough, only discovering how fun the late-night jazzy quartet was at the end of my cruise. The bar has everything — counter seating in a dark, cavelike location, conversation nooks in the back by the windows and perfect people-watching perches across from the shops. The ship's roving magician may make an appearance and delight you with some card tricks. Don't dismiss it as just an atrium bar — On the Rocks is a destination.
Best drink: The number-one drink at On the Rocks, according to my server, is The Entertainer. It's actually two drinks in one, a syrupy-sweet concoction of Absolut Vanilla, passion fruit puree and lime served with a shot glass of sparkling wine. You cut the sweet cocktail with the dry wine, and it works — until the shot runs out faster than the martini glass. It's certainly an entertaining experience worth ordering at least once.
The Dock House Bar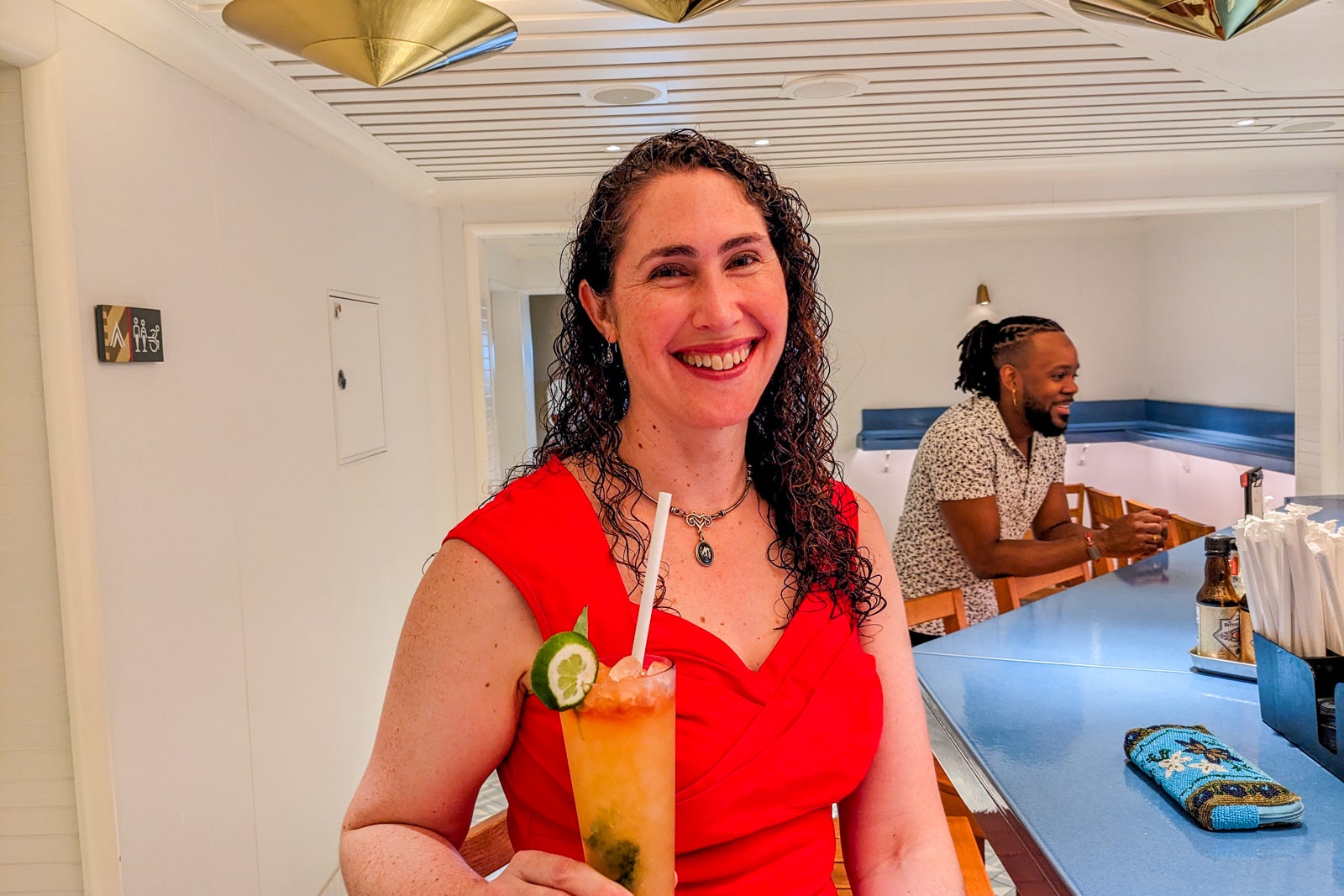 Vibe: Pretend you're chilling at a chic Mediterranean resort when you make your way to the Dock House Bar, the tucked-away pre-dinner drink spot off the main Dock House lounge.
Prices: Signature cocktails run $11 to $15.
The TPG take: The Dock House and its alfresco counterpart, The Dock (same menu), are, in my mind, the most attractive hangout areas on board. The cozy couch seating dotted with (fake) greenery, the outdoor clusters of low wooden tables and chairs, and the Greek-inspired white-and-blue bar feel sophisticated yet inviting. You feel like a movie star.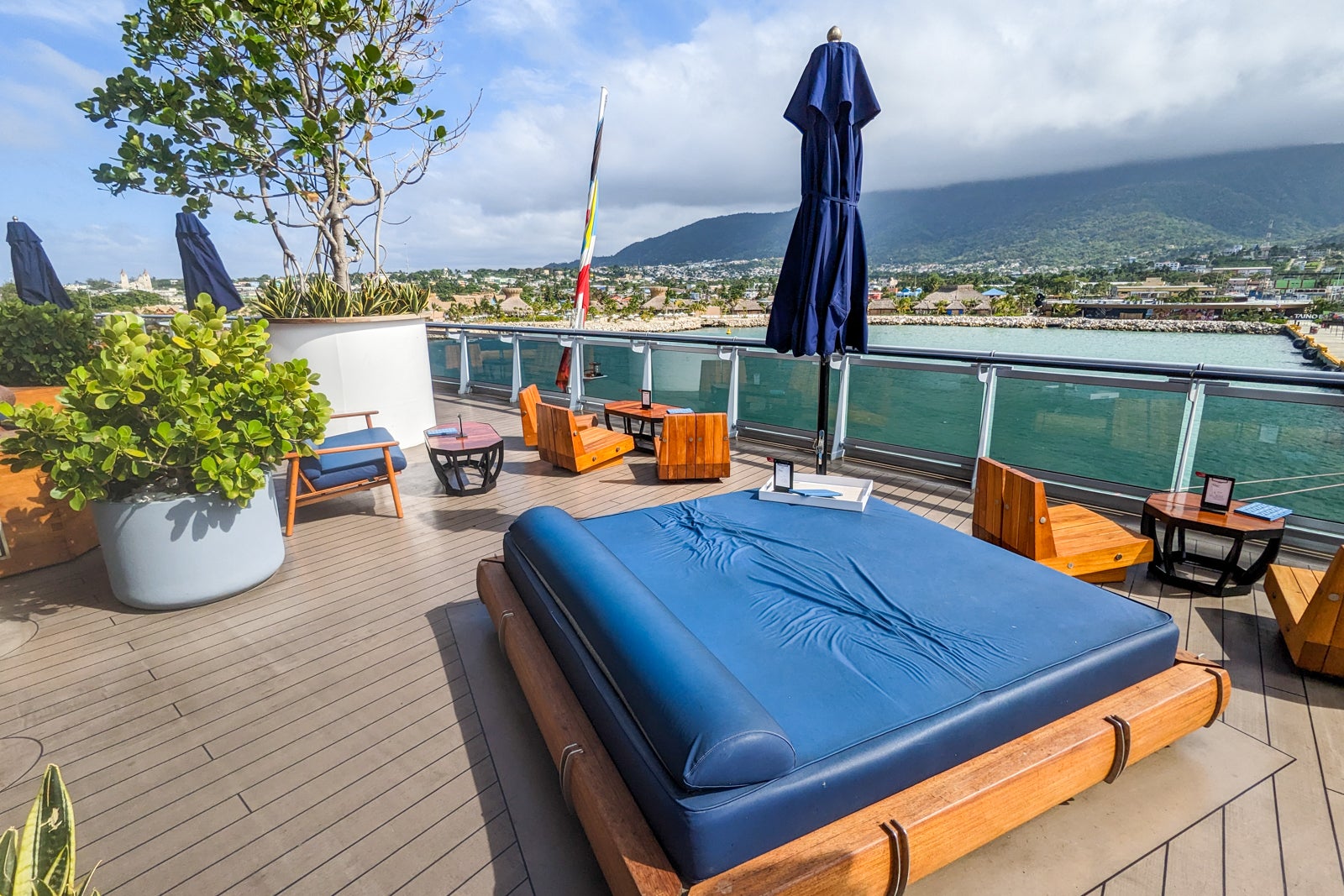 Strike up a conversation with your neighbor or the friendly bartenders at the 10-seat Dock House Bar before you make your way to your next meal.
Best drink: The Golden Horizon is a colorful drink that's a play on a Tequila Sunrise. It combines tequila, passionfruit liqueur, honey and fresh basil into a refreshing drink that will have everyone stopping you to ask, "What are you drinking? I want one!"
Related: Too hip or just right? Here's what it was really like sailing on Virgin Voyages for the first time
Grounds Club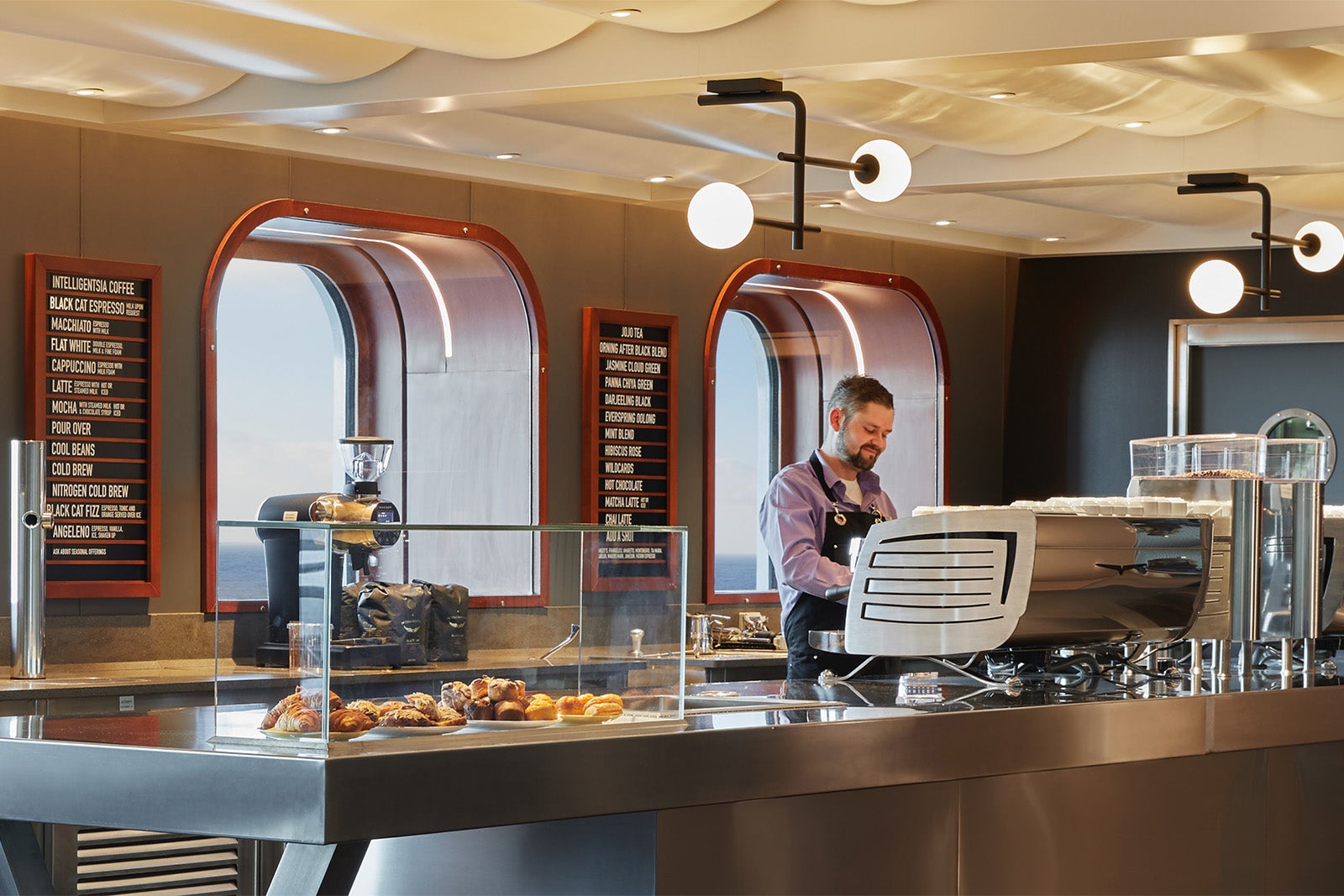 Vibe: The ship's version of Starbucks is equally happy to serve you a croissant (for free) or a coffee drink with a shot of Bailey's. Busiest in the morning, the Grounds Club also has an outpost in The Galley on Deck 15, so you don't have to travel decks between your caffeine fix and your morning meal.
Prices: From $3 to $6 for Intelligentsia Coffee, Jojo Tea, cold brews, iced drinks and lattes.
The TPG take: I rated this coffee bar highly because it's popular with cruise guests and is surrounded by inviting hangout areas. Plus, the option to adult-ify your caffeine with a shot of alcohol is a fun, very Virgin option.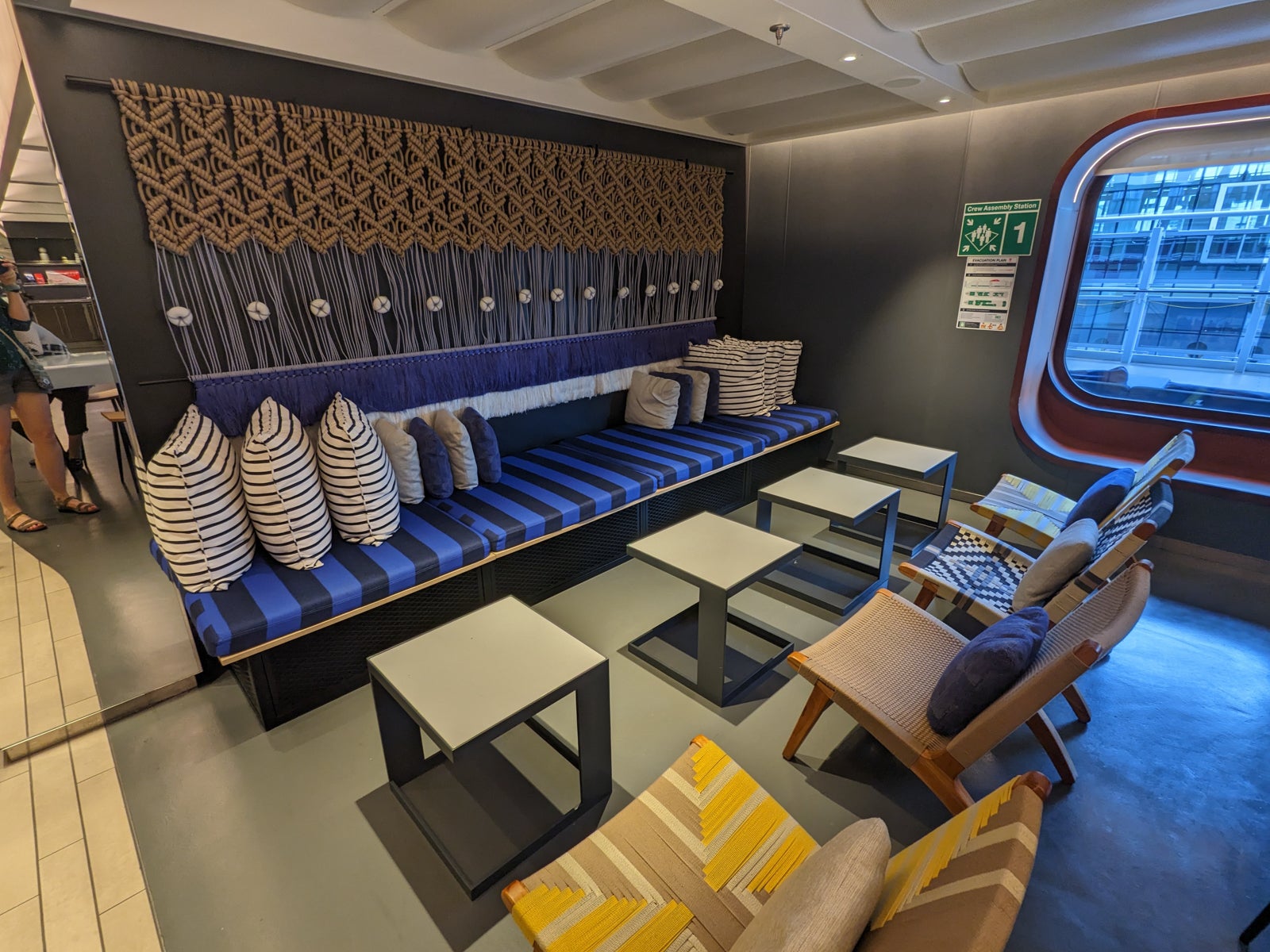 The Grounds Club is surrounded by cozy seating areas and a communal table with outlets for your laptop. It's a great place to chat with friends, work on your Instagram influencer status or check your work email — though the latter is seriously frowned upon.
Best drink: The Angeleno is a popular choice for iced coffee lovers; it's made with espresso, vanilla and ice — shaken, not stirred. My vote for a Scarlet Lady-inspired option would be hot chocolate with a shot of Bailey's. It's a little bit playful and a little bit naughty, which is totally the vibe of this ship.
Pink Agave Bar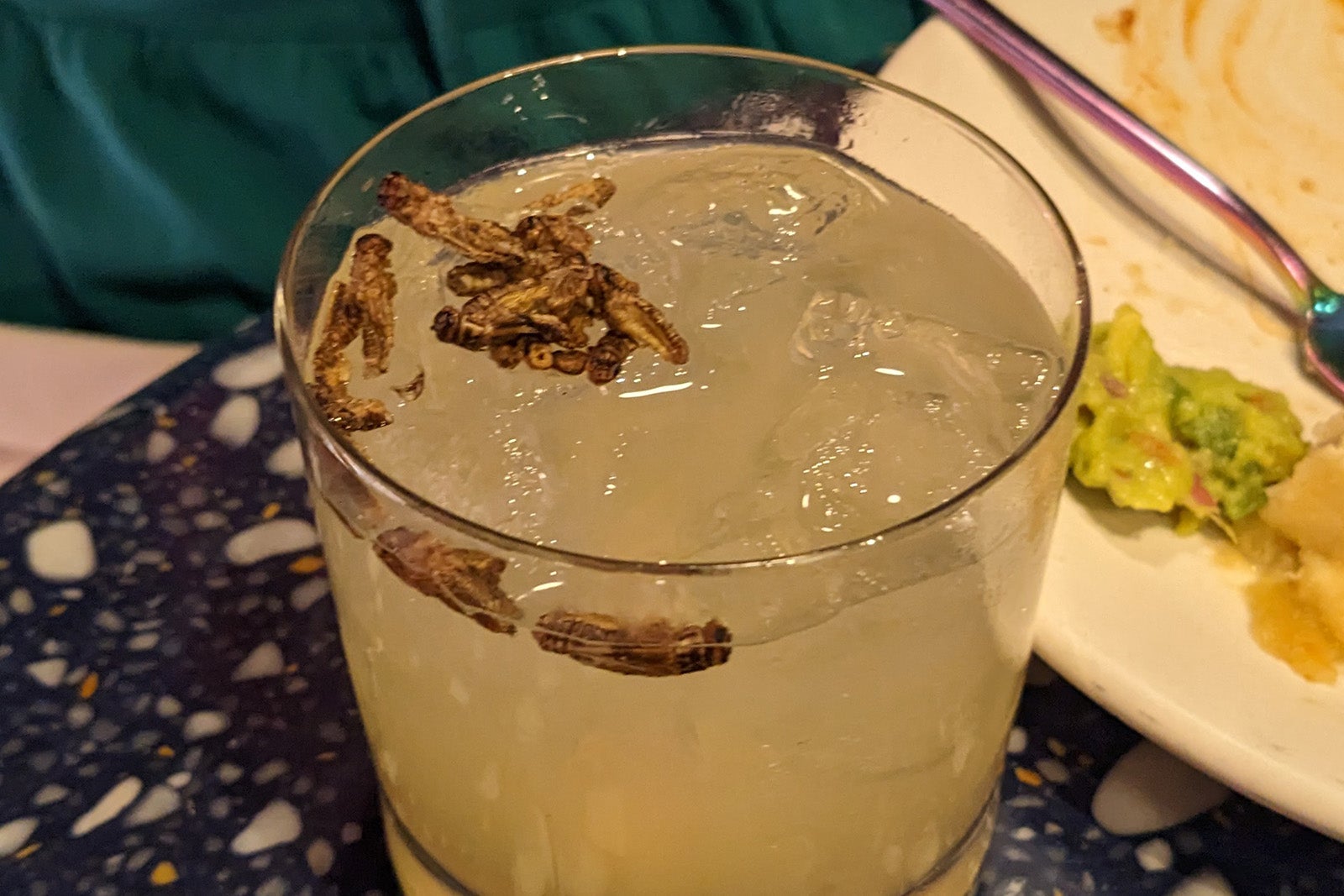 Vibe: The tiny bar in this elevated Mexican restaurant is less of a destination than a waiting area, but you'll definitely want to order a cocktail to pair with your meal at Pink Agave. However, the ship has the largest collection of mezcal and tequila at sea, so if you're a fan, this is where you want to order.
Prices: Spiked aqua fresca $9, tequila $9 to $83, mezcal $9 to $47 and signature cocktails $11 to $16.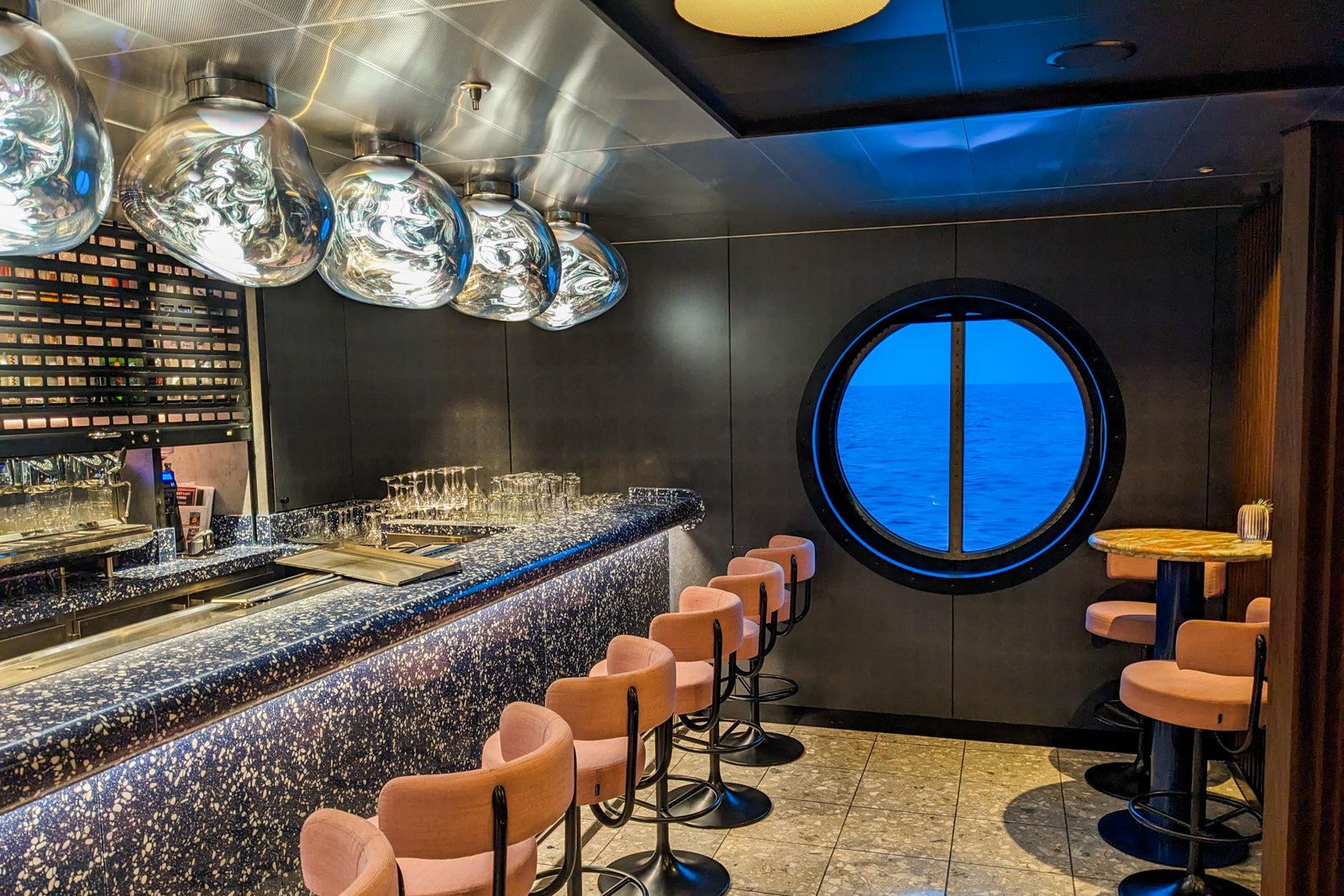 The TPG take: Whether you pony up to the bar or come for dinner, Pink Agave's bar menu is the most unique on board. If you can't score a reservation, come on down for a drink. I would rate this bar higher for its incredible tequila and mezcal menu, but it's not a stand-alone venue, so the bar area can be loud and crowded during dinner service.
Best drink: Hop on the latest foodie trend and order the It's Like Crickets in Here drink – with real crunchy crickets on top. The drink itself blends mezcal with ancho reyes and citrus. If that grosses you out as it does me, the off-menu flavored margaritas are delicious.
Richard's Rooftop Bar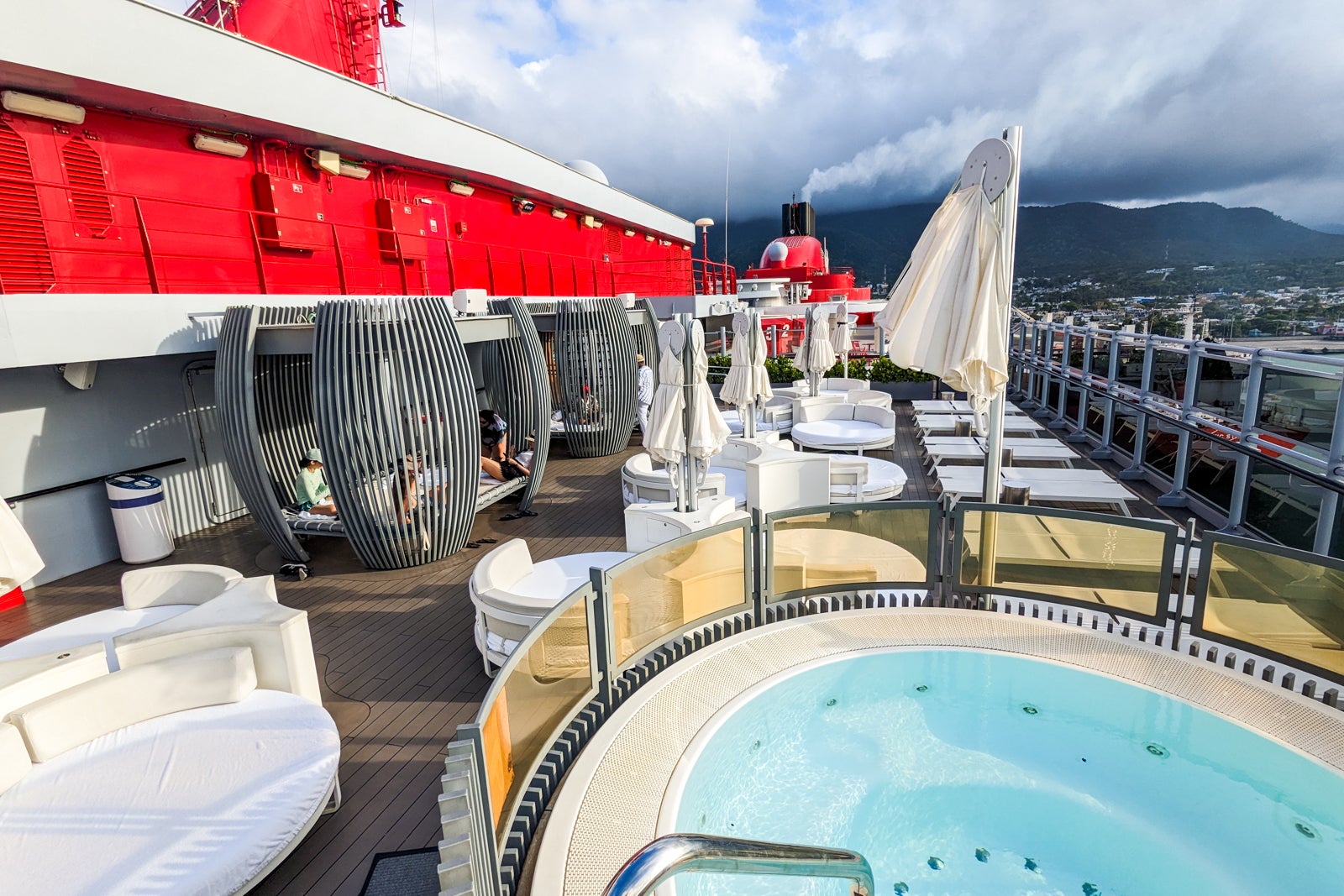 Vibe: Yes, Scarlet Lady has a keycard-access-only exclusive outdoor lounge for the rockstar set (that is, guests booked into Rockstar Suites). The all-white design with iridescent windbreaker walls adds to the VIP feel, and from 5 to 6 p.m., Champagne flows freely to everyone cool enough to have access.
Prices: Cocktails $10 to $13, beer and cider $5 to $9, wine and Champagne by the glass $7 to $65, coffee $3 to $5.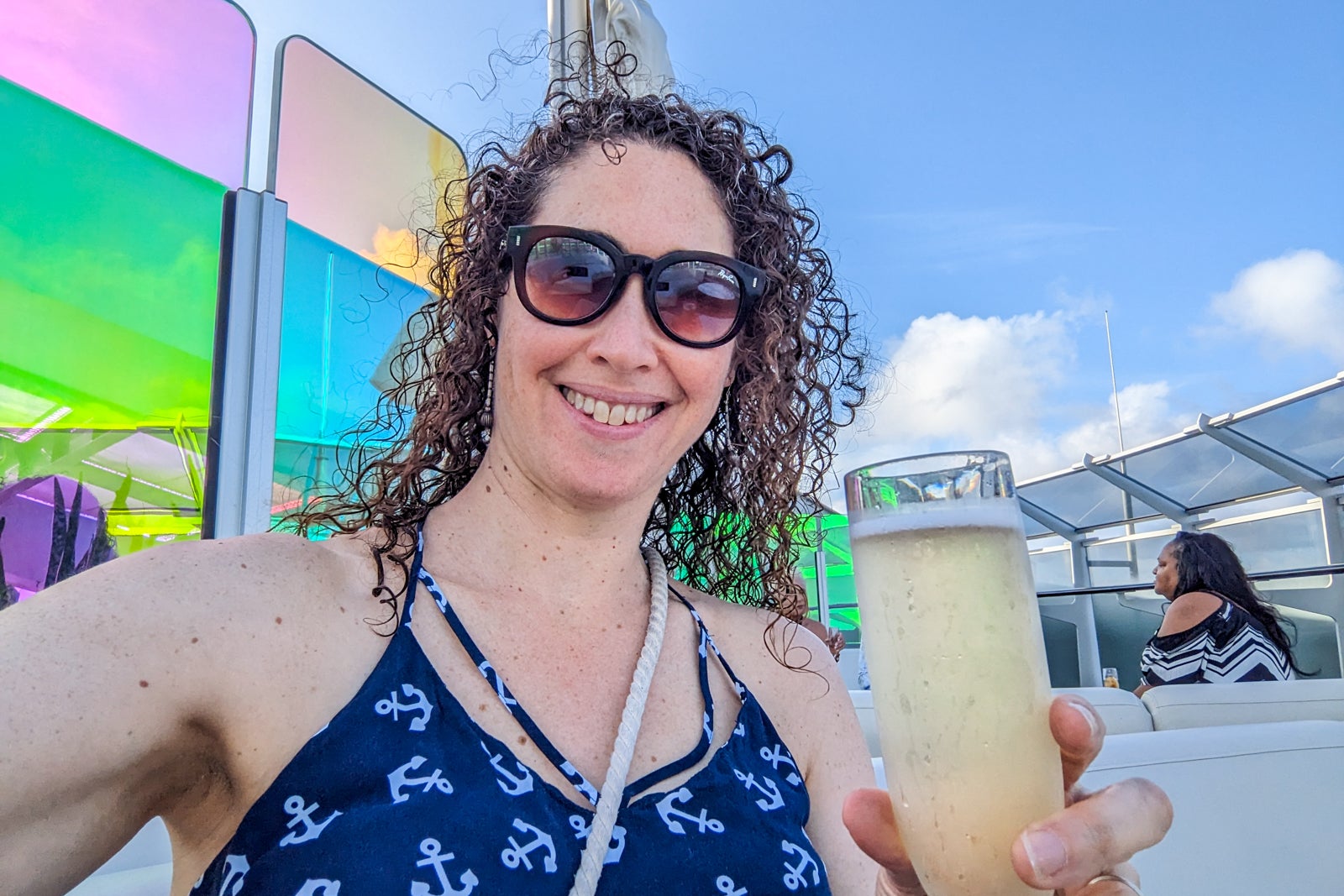 The TPG take: I should've spent more time lounging in the hot tub or reclining on day beds on this uncrowded sun terrace. The bar will serve whatever drink you like but don't ruin the vibe by ordering something in a can. Only a select few can access this top-deck hideaway, and I know it's elitist, but if you can rock that VIP status, you should definitely do it.
Best drink: Free Champagne during evening happy hours, of course!
Related: Bubbly, please: You can order Champagne anywhere onboard this cruise by shaking your phone
Red Bar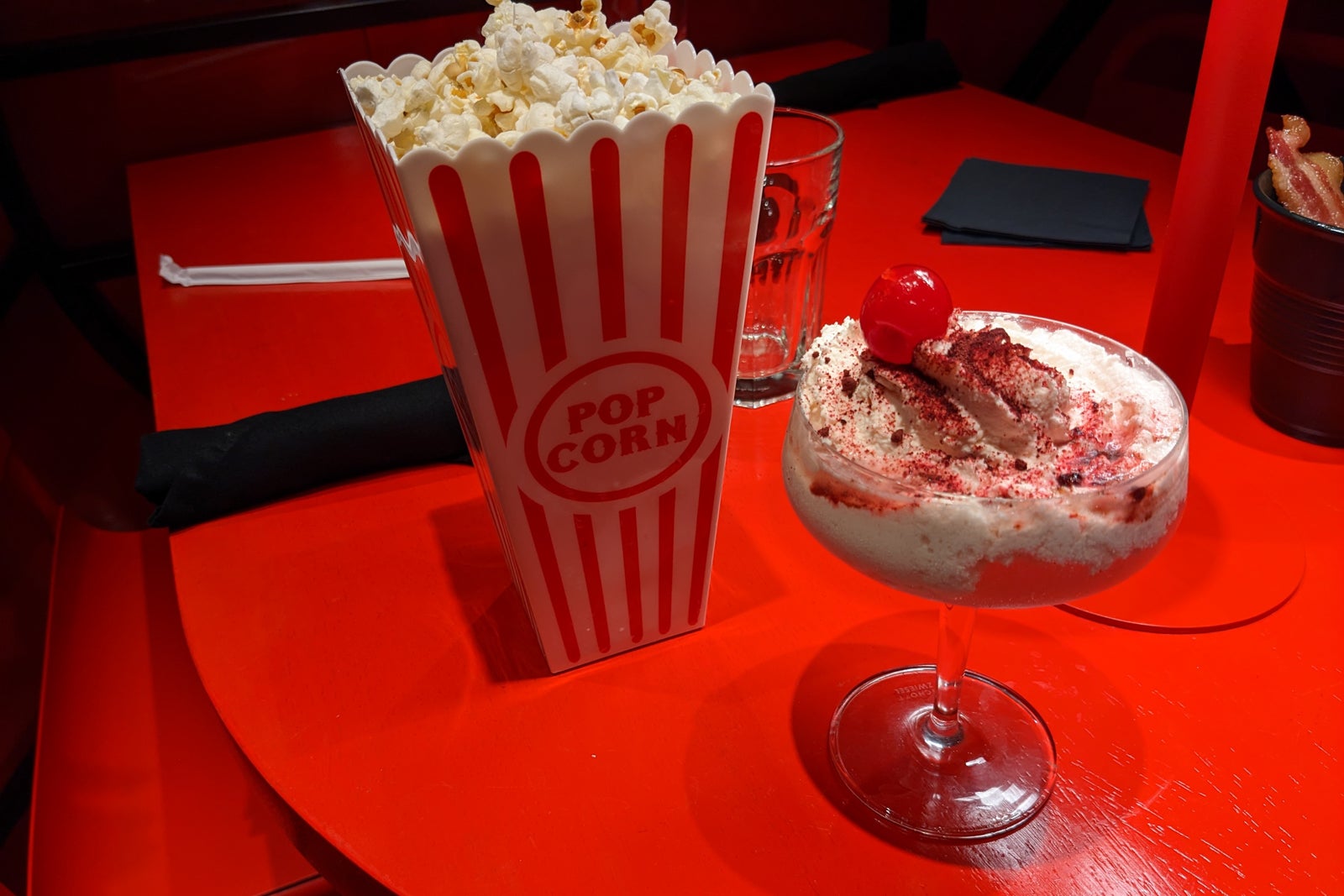 Vibe: The name says it all — everything in this bar is red. It's hard to find, though, as it's tucked away in the back room of the Razzle Dazzle restaurant.
Prices: Signature cocktails range from $11 to $17, beers from $6 to $9 and wines by the glass from $7 to $15.
The TPG take: The bar and its drinks are a little screwball, which pairs nicely with Razzle Dazzle's whimsical vibe. It could be a fun cocktail bar, but the Red Bar mainly serves diners eating at the restaurant or those who arrived early for their reservation. The all-red decor and diner-style seating simply aren't that inviting, so it's not a destination bar where you'd want to hang out.
Best drink: The popcorn old-fashioned is a mix of Buffalo Trace bourbon, fig, agave and Angostura bitters, topped with a handful of popcorn and served in a red-and-white-striped container that resembles an old-school popcorn bag.
The Aquatic Club Bar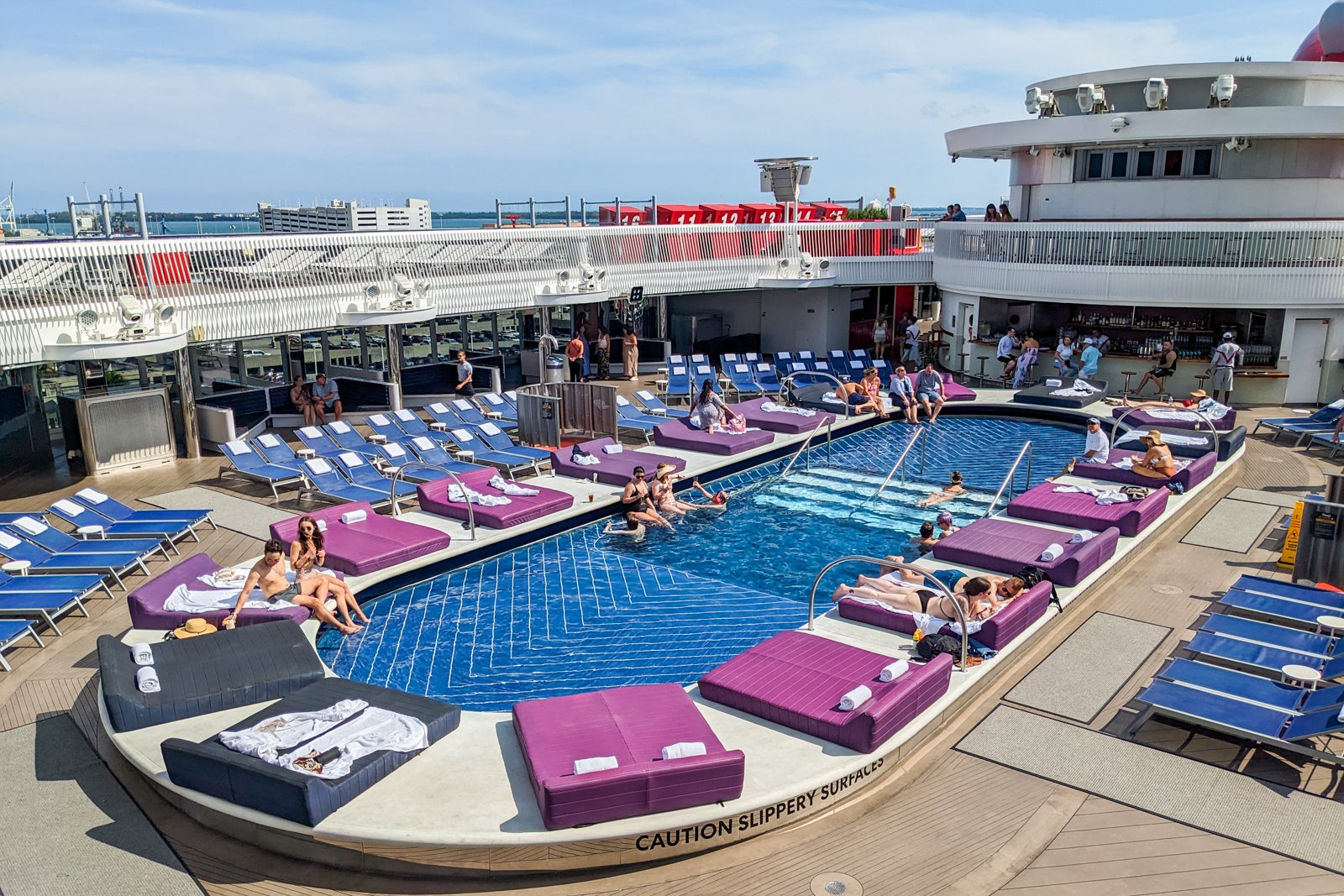 Vibe: Every ship has to have a bar by the main pool area, and the Aquatic Club is Scarlet Lady's version. Enjoy your sea time, knowing the refreshing beers and pina coladas are close at hand.
Prices: Cocktails (fresh and frozen) run $11 to $13, beers $5 to $9, and nonalcoholic drinks $5 to $6.
The TPG take: Scarlet Lady's pool bar is nothing special — the same as all cruise ship pool bars. It runs the middle of the pack for being a necessary service that provides well for the sun worshippers and pool dippers on those busy-with-relaxation sea days.
Best drink: If you want to feel self-righteous while sipping a frozen umbrella drink, order the skinny pina, made with Bacardi rum, coconut milk, lime and Kelvin Slush Co. pina colada mix that's USDA organic, non-GMO, vegan, gluten-free and kosher.
Gym & Tonic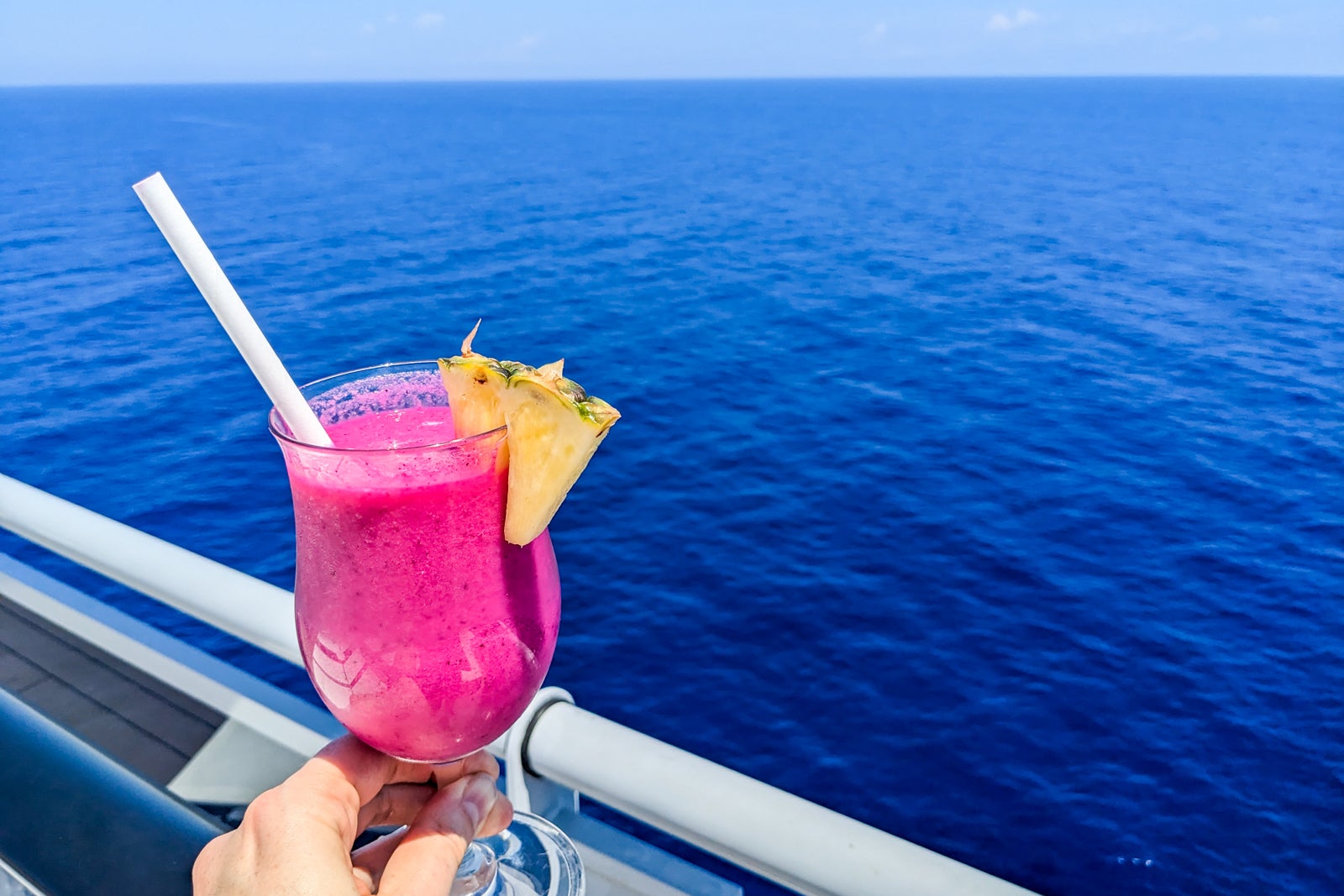 Vibe: What's billed as a post-workout bar is really a pool bar with a side of smoothies, fresh juices and "reset cocktails" claiming to offer hydration and cleansing. We won't tell if you choose to ditch your green juice for a skinny pina instead.
Prices: Juices cost from $7 to $10, and smoothies and signature cocktails are $11 to $13.
The TPG take: We actually wandered around the gym, confusedly looking for the bar (and not wanting to ask a fitness instructor where to find a cocktail at noon). The Gym & Tonic Bar is near the fitness center but it's directly adjacent to a multi-person hot tub. A juice bar is a great idea, and a smoothie was refreshing after a booty burn class, but some signage would help.
Best drink: The In the Tropics smoothie is both delicious and bright magenta, so it looks excellent in all your photos.
Related: Detox and retox: I tried 6 of Virgin Voyages' free fitness classes, and here's how it went
The Athletic Club Bar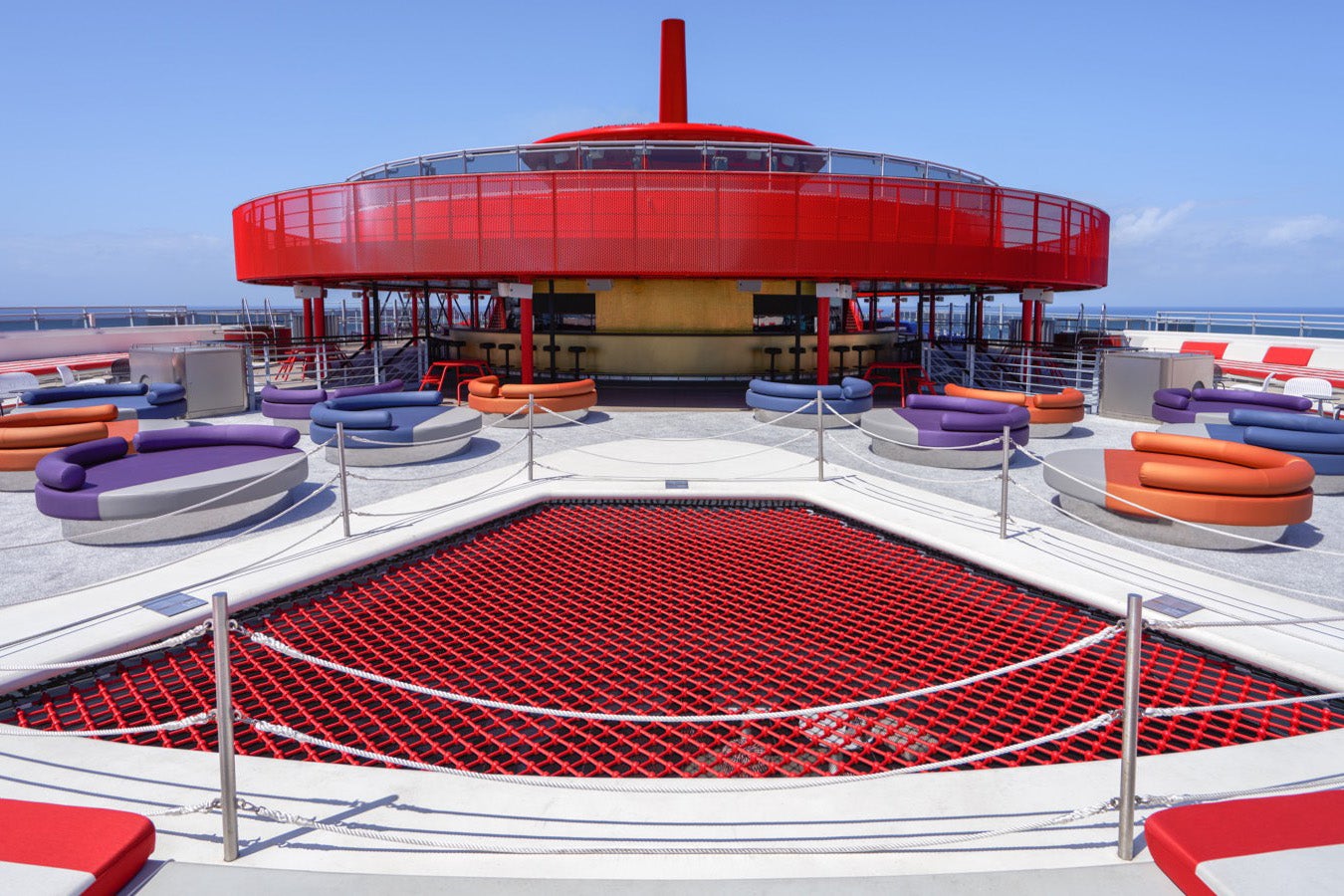 Vibe: You read that right – it's another gym-themed bar on Scarlet Lady. This one is at the back of the ship, across from some lounge seating and the net (literally strong netting strung over the sea and The Dock many decks below). So where's the Athletic Club? Right around the corner – where an enclosed sports court, alfresco boxing ring and workout stations cater to exhibitionists showing off their muscles.
Prices: Smoothies $10 to $11, elixirs and energy drinks $5 to $9, cocktails $9 to $13, many things in cans (seltzers, cocktails, wine, beer, sports drinks) $5 to $13.
The TPG take: The Athletic Club really shines during the first-night pajama party, where cruisers for real put on sleepwear and dance in the dark. Beyond that event, the bar seemed mainly used for early-evening or sunset meetups and was pretty quiet. Or maybe you really need that beer after a round of basketball?
Best drink: Yaya kombucha – because what other cruise line serves kombucha at its alfresco sunset bar?
The Loose Cannon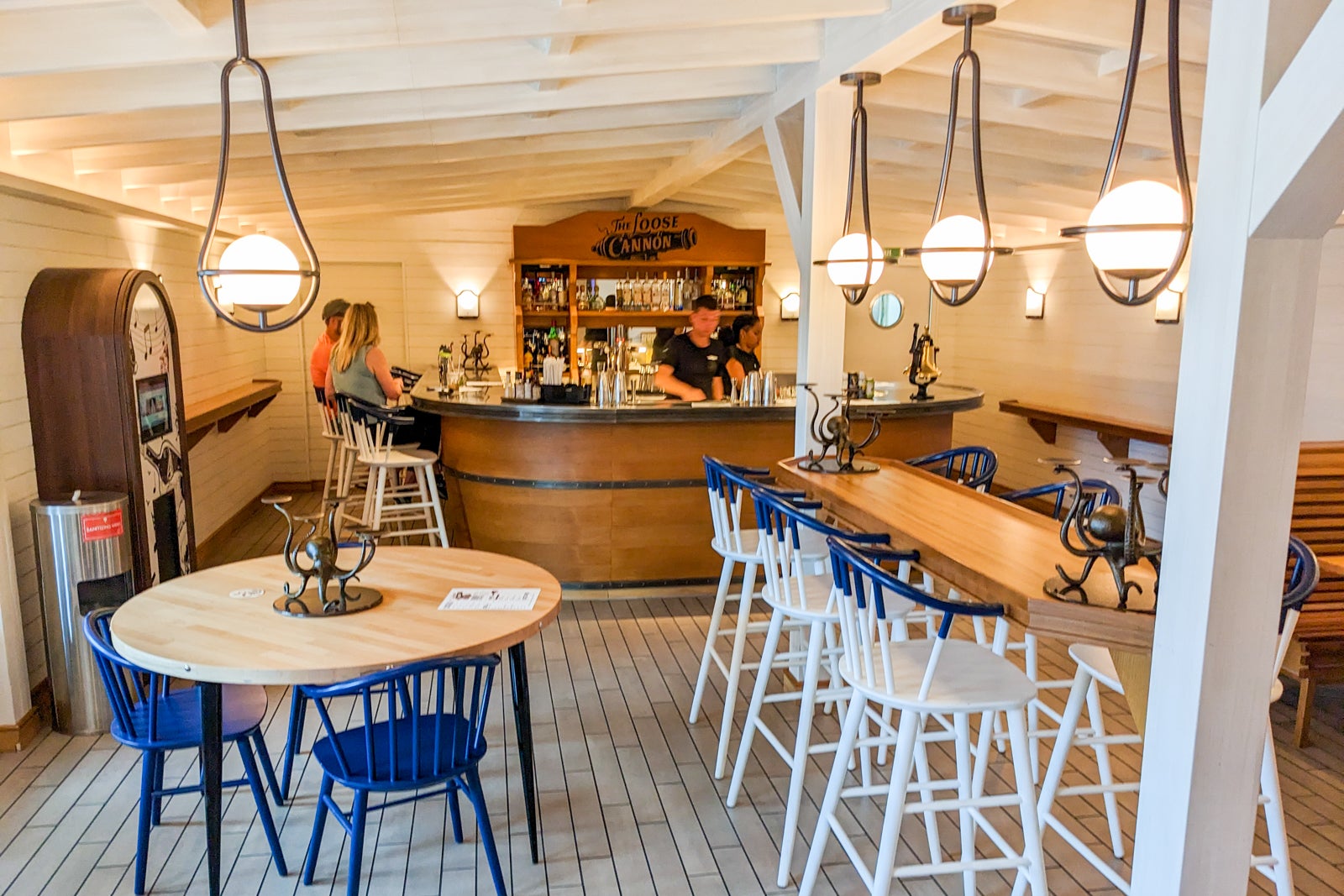 Vibe: This nautically themed bar is yet another of Virgin's hide-and-seek bars. The wooden bar with its ship's bell and octopus decor seems like it was stolen from the top deck of a clipper ship and transplanted indoors on Scarlet Lady, next to the Social Club game room. In real life, it's the hot spot for daytime trivia.
Prices: Signature cocktails $9 to $13, beer $6 to $9, wines by the glass $7 to $11. You can also get groups of shots to serve four or five people for $35 to $45.
The TPG take: After stopping by the Loose Cannon several times and never seeing anyone there, we asked a crew member when it was happening. He said that people come for trivia – and no other time unless they're popping by to grab a soda or beer to go with their hot dog and wings from the Social Club Diner next door. So if you like the "nauti" vibe, put on your thinking cap and show up for the daytime mind-benders.
Best drink: Perhaps a Red Bull will give you some extra oomph for that competitive trivia. Taking shots will guarantee you a last-place finish.
Draught Haus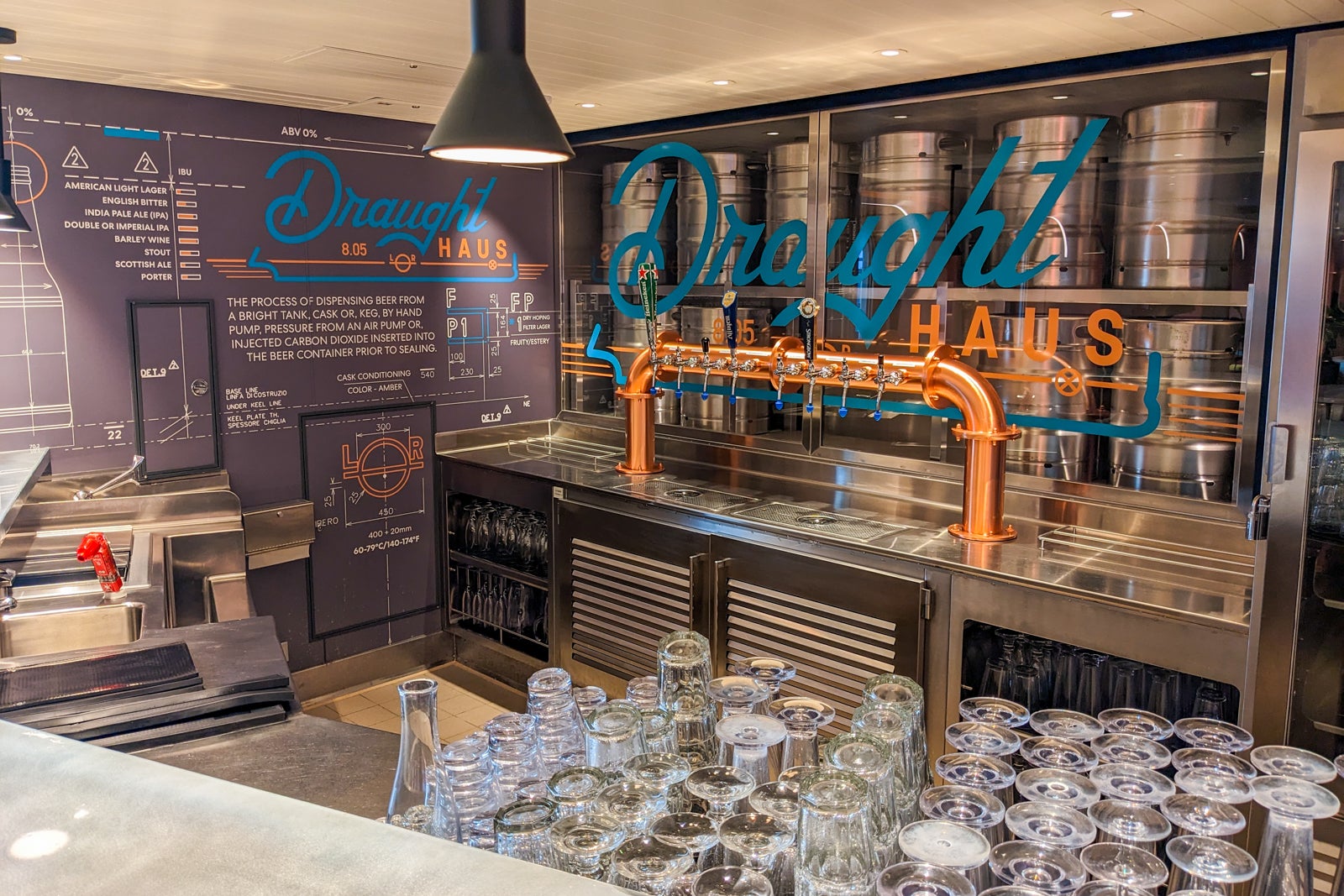 Vibe: The bros would come here for beer and shots if the industrial-styled Draught Haus weren't hidden in a corner of the ship's atrium where nothing much happens – except perhaps on Scarlet Night.
Prices: Beer (on tap, in cans or in bottles) $5 to $15, shots and shot-tails $5 to $8, boiler makers $9 to $15.
The TPG take: Confession: We never got to try out the Draught Haus because 6 p.m. was just too early for shots, and when we returned at 11 p.m., it was already closed. That said, we never saw anyone drinking here, so I'm not sure when and if this bar gets traffic.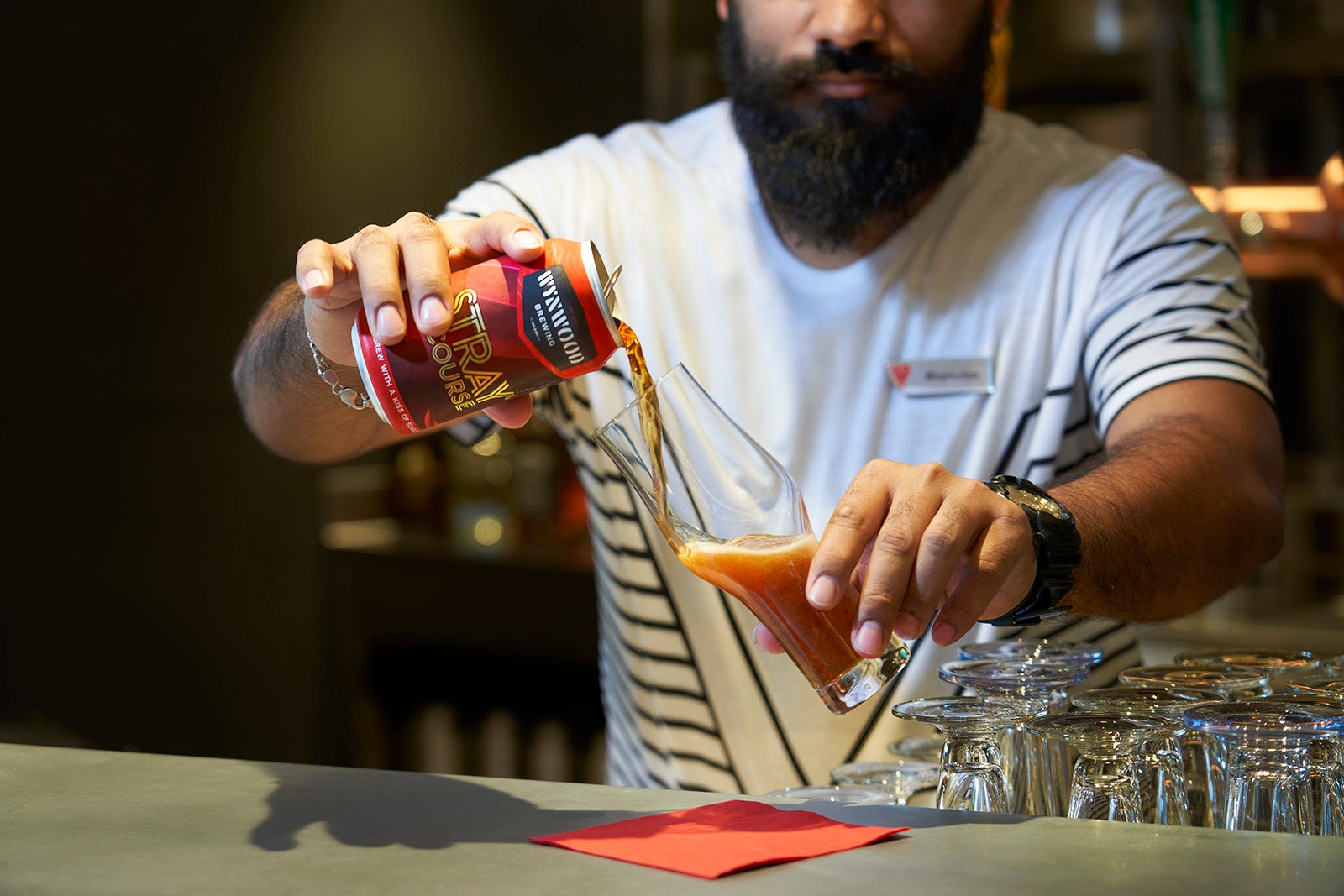 Best drink: Virgin's custom beer is Stray the Course, crafted by the Wynwood Brewing Company. If I drank beer, I'd start with that one since you can only find it on board Virgin Voyages' ships. However, you might have to be OK with drinking alone if you don't want to take your drink to go.
Bottom line
Scarlet Lady has a bar for every occasion, from poolside refreshment to after-dinner fun with your squad.
If you like to try out creative cocktails, you'll definitely want to work your way around the ship and try out all the bars on board. If you're a social drinker, sign up for the ship's Grog Walk, a popular extra-fee pub crawl, complete with games and activities to get to know your fellow cruisers and the ship's Happenings cast.
Planning a cruise? Start with these stories: