Editor's note: This is a recurring post, regularly updated with new information.
---
There's some good news and some bad news regarding Chase's popular Pay Yourself Back feature.
The good news: Chase has extended this benefit in 2023. The bad news: The value this program offers for most people will be less this year than it was last year.
The Pay Yourself Back feature allows cardmembers to redeem points for expenses outside of travel at a favorable rate.
Here's everything that you need to know about using Pay Yourself Back.
What is Pay Yourself Back?
In 2020, Chase introduced Pay Yourself Back as an ongoing redemption option within Ultimate Rewards to give cardmembers another choice in redeeming points. The categories have evolved over time, with the removal of options such as grocery and home improvement stores.
In short, the Pay Yourself Back option allows cardholders of many Chase cards to use points at a redemption value similar to booking travel. This won't give you maximum value for your Ultimate Rewards points, but if you're looking for a simple return (or are sitting on a pile of points with no immediate use for them), it could be a good choice.
Related: The best Chase credit cards of 2023
What purchases are eligible for Pay Yourself Back?
These are the current categories eligible for Pay Yourself Back as of Jan. 1, 2023:
Card
Redemption value
Current end date
Chase Sapphire Reserve
Charities: 1.5 cents per point.

Gas stations, groceries and cardholder annual fees: 1.25 cents per point.

Charities: Dec. 31, 2023.

Other categories: March 31, 2023.

Chase Sapphire Preferred Card
Charities: 1.25 cents per point.

Gas stations and groceries: 1 cent per point.

Charities: Dec. 31, 2023.

Other categories: March 31, 2023.

Chase Freedom Flex, Chase Freedom Unlimited and Chase Freedom
Charities: 1.25 cents per point.
June 30, 2023.
Ink Business Preferred Credit Card, Ink Plus (no longer available)
Internet, cable, phone services and shipping: 1.25 cents per point.
March 31, 2023.
Ink Business Cash Credit Card and Ink Business Unlimited Credit Card
Internet, cable, phone services and shipping: 1.1 cents per point.
March 31, 2023.
The information for the Chase Freedom and Chase Ink Plus has been collected independently by The Points Guy. The card details on this page have not been reviewed or provided by the card issuer.
The ability to use Pay Yourself Back with charitable donations has been extended through another year on the Sapphire and Freedom cards. If you're interested in using your points to make a difference in Ukraine, the following four options directly support humanitarian efforts there:
International Medical Corps.
International Rescue Committee, Inc.
UNICEF USA.
World Central Kitchen.
The additional list of charities for Pay Yourself Back includes:
American Red Cross.
Equal Justice Initiative.
Feeding America.
GLSEN.
Habitat for Humanity.
Leadership Conference Education Fund.
NAACP Legal Defense and Education Fund.
National Urban League.
Out & Equal Workplace Advocates.
SAGE.
Thurgood Marshall College Fund.
United Way.
Let's say you had an eligible donation on the Chase Sapphire Reserve. Instead of receiving a $100 statement credit when redeeming 10,000 points, a Sapphire Reserve customer would receive a credit of $150 for the same number of points when used for an eligible Pay Yourself Back charge. This matches the rate offered on Ultimate Rewards Travel redemptions for that card.
Chase Sapphire Reserve cardmembers can also use Pay Yourself Back for their annual fee, which we also saw in 2022. However, there are significant changes worth highlighting.
Redemption values for non-charity redemptions on the Sapphire Reserve and Sapphire Preferred categories have decreased. Last year, you could receive a 1.5 cents-per-point value on all Pay Yourself Back categories, but now that value only applies to the charities categories. Other redemptions return only a 1.25 cents-per-point value. Similarly, redemption values on the Sapphire Preferred decreased in every category except charities, dropping from 1.25 cents to 1 cent when using Pay Yourself Back.
In short, for those redeeming points through Pay Yourself Back, the value to be obtained is less in 2023 than it was in 2022.
Requesting a credit
The process of requesting a credit through Chase's Pay Yourself Back program is relatively straightforward. Log in to your Ultimate Rewards account via the mobile app or desktop and select the "Pay Yourself Back" option in the sidebar.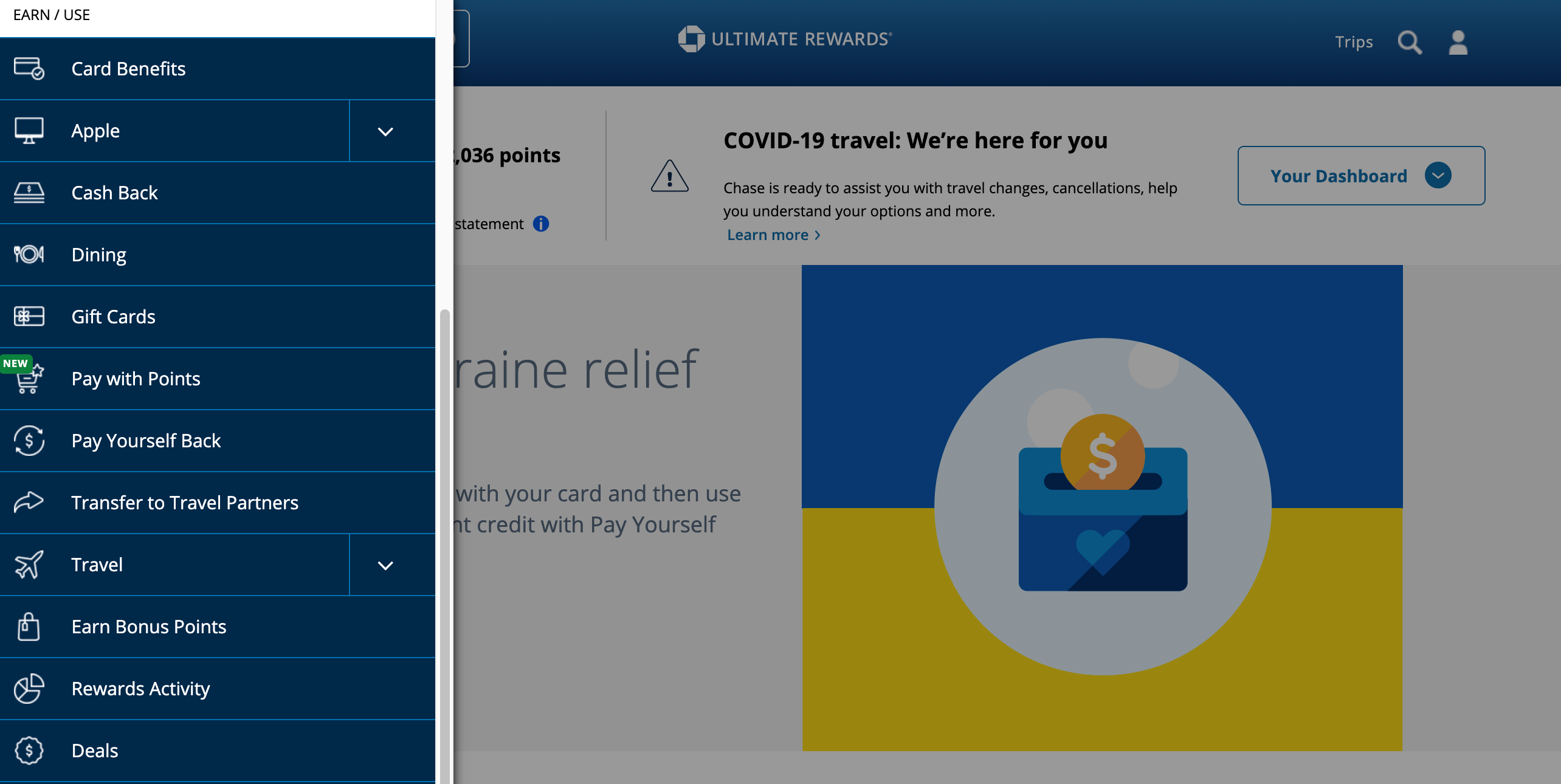 Next, you'll see a list of eligible purchases for which you can redeem points. Points can be redeemed for purchases as far back as 90 days.
Here's an example of a redemption I made last year. At the time, I had nine eligible internet, cable and phone purchases (three shown) on my Ink Plus card. To redeem points, check the box next to the purchases for which you want to redeem points and proceed to the next page.
You can choose to offset the full purchase amount, assuming you have enough points to cover it, or you can redeem a smaller amount if you prefer.
From there, you can confirm the redemption value and amount of points required and then choose to complete the transaction. Your statement credit should post within three business days.
Statement credit options on other purchases
Chase has long offered the option to redeem points for a statement credit — that's not new. To do this, log into your Ultimate Rewards account, hit the drop-down menu and select "Cash Back."
You'll be presented with an option to enter the amount you'd like to redeem and where you'd like your rewards deposited. All cash-back redemptions are fixed at 1 cent per point, only half of TPG's valuation for Ultimate Rewards and lower than any of the above Pay Yourself Back options.
Related: Points of View: Can I cash out my points, and is it worth it?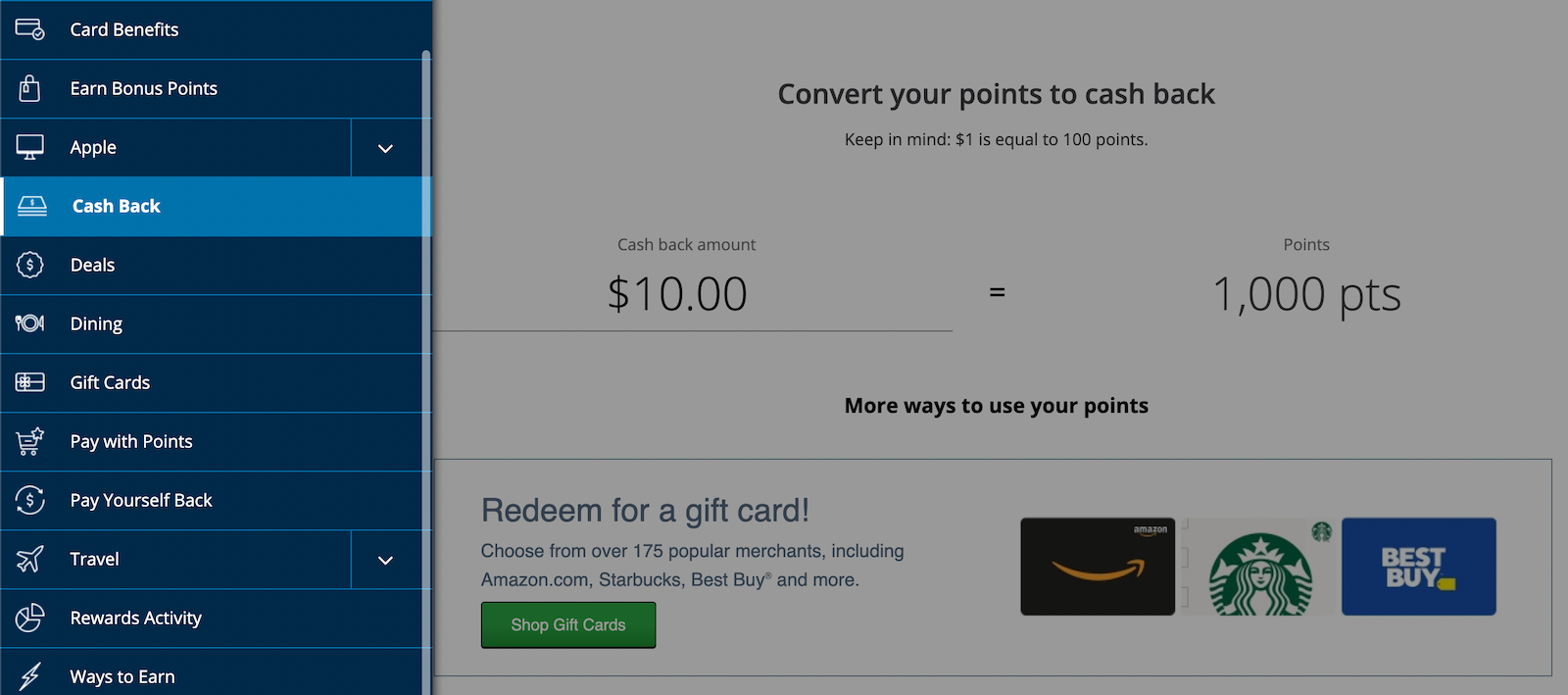 Even so, Chase's traditional cash-back option is more generous than what you can expect from some other issuers. Here's how it breaks down for some of the most popular programs and cards:
The information for the Citi Prestige card has been collected independently by The Points Guy. The card details on this page have not been reviewed or provided by the card issuer.
Bottom line
Chase's Pay Yourself Back feature provides valuable flexibility for many cardholders, but the value it offers is less this year than in past years.
Even if the redemption categories provide value for you, it's worth considering whether it makes sense to redeem Chase Ultimate Rewards points this way. Are you satisfied with using a point valued up to 1.5 cents apiece toward non-travel charges when that is shy of TPG's 2-cent valuation?
Ultimately, that decision comes down to how you plan to use your points, how many you currently have with airline and hotel programs and whether or not you'd benefit significantly from the statement credits.
Additional reporting by Chris Dong, Stella Shon, Summer Hull, Zach Honig and Ryan Smith.