Several thousand passengers on two cruise ships this week are getting something they probably didn't expect when their cruises began more than a week ago: an extra day on the vessels.
Holland America late Tuesday said its 2,668-passenger Rotterdam and 2,104-passenger Eurodam would remain at sea on Wednesday instead of returning to Fort Lauderdale's Port Everglades as scheduled, in order to stay well clear of Tropical Storm Nicole.
The fast-growing storm is expected to make landfall along the Florida coast late Wednesday as a hurricane.
For more cruise news, guides and tips, sign up for TPG's cruise newsletter
Both Rotterdam and Eurodam are based in Port Everglades and were due back at the port early Wednesday so passengers could disembark from their relatively long voyages. The ships have been on an 11-night cruise and a 10-night cruise to the Caribbean, respectively.
"With the safety of our guests and crew an utmost priority, Eurodam and Rotterdam will stay at sea an extra day due to Tropical Storm Nicole," Holland America said in a statement sent to TPG. "The ships will remain at sea and safely away from the storm."
Both ships are now due back in Port Everglades on Thursday.
The delayed return came after Port Everglades closed to marine traffic at 8 p.m. Tuesday. The port hasn't yet said when it will reopen, but it's likely to be soon after Hurricane Nicole passes through the region — something that is expected to occur late Wednesday into early Thursday.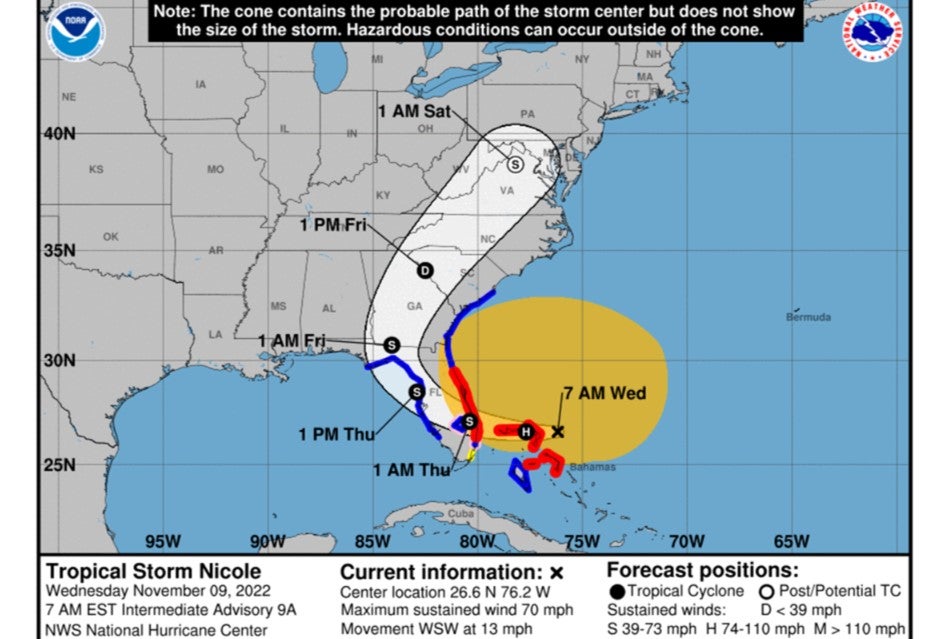 Holland America said it was advising passengers on both ships on revising their air or ground transportation home from Port Everglades, as they will be arriving in the port a day late.
The line also has notified passengers who were scheduled to embark the two ships at Port Everglades on Wednesday for new voyages that the trips will be delayed by at least 24 hours.
Related: Read this before booking a cruise during hurricane season
Rotterdam had been scheduled to depart Port Everglades late Wednesday on an 11-night cruise to the southern Caribbean. Eurodam had been scheduled to depart the port late Wednesday on an 11-day voyage to the Panama Canal.
As is customary when cruises need to be extended due to inclement weather, none of the passengers on board the vessels will be charged for the extra day they spend on the ships.
Such voyage extensions due to hurricanes and other weather events are relatively rare in the cruise world, though they do happen from time to time. In fact, a similar situation occurred less than two months ago when the approach of Hurricane Ian toward the Florida coast forced five ships to remain at sea for additional days.
The extended sailings are just the latest in a string of disruptions to cruises this week due to Hurricane Nicole. More than half a dozen cruise ships operating in the Caribbean and the Bahamas have had to switch course in recent days to steer clear of the storm as it barreled toward Florida. In many cases, the ships dropped or switched ports as they moved to calmer waters.
Related: See which cruise ships have been affected by Nicole
As of 7 a.m. EST Wednesday, Nicole was about 240 miles east of West Palm Beach, Florida, and moving west-southwest at 13 miles per hour. The tropical storm had maximum sustained winds of 70 miles per hour.
According to current projections, Nicole will grow into a hurricane on Wednesday when it is near the northwestern Bahamas and remain a hurricane as it approaches the east coast of Florida later in the day.
The National Hurricane Center on Wednesday warned that Nicole was a large tropical cyclone with tropical storm-force winds extending outward up to 460 miles from its center, especially to the north of its center.
"Do not focus on the exact track of Nicole since it is expected to be a large storm with hazards extending well to the north of the center, outside of the forecast cone," the hurricane center said on Tuesday. "These hazards are likely to affect much of the Florida peninsula and portions of the southeast United States."
Planning a cruise? Start with these stories: