It's official: Alcohol-infused ice cream and milkshakes are trending on cruise ships.
On Thursday, Florida-based Margaritaville at Sea became the third cruise brand in the last two years to begin touting the availability of spiked ice cream concoctions on its vessels, joining Virgin Voyages and Royal Caribbean.
The one-ship line said it partnered with New York's Tipsy Scoop to bring liquor-infused ice cream and other frozen treats to the decks of its 1,308-passenger Margaritaville at Sea Paradise.
Available exclusively to passengers 21 and older, effective immediately, the new boozy offerings include Blue Margarita, a tequila-infused sorbet, and Bahama Mama, a coconut rum-infused ice cream.
For more cruise news, guides and tips, sign up for TPG's cruise newsletter.
Both drinks are made with Margaritaville Spirits brand liquors and were created exclusively for the ship.
In addition to tequila, the Blue Margarita sorbet is infused with blue curacao, fresh lime juice and salt. Bahama Mama ice cream is made with coconut rum, fresh oranges, pineapple juice and a touch of grenadine. Other signature Tipsy Scoop flavors are available as well.
Passengers on Margaritaville at Sea can also order a boozy milkshake made with the Tipsy Scoop flavors and two different types of alcohol-enhanced sundaes, the latter of which are served in a specialty branded Margaritaville blender cup.
The two types of sundaes feature scoops of either the Blue Margarita sorbet or Bahama Mama ice cream along with traditional ice cream, a single serving of liquor, toppings and edible adornments.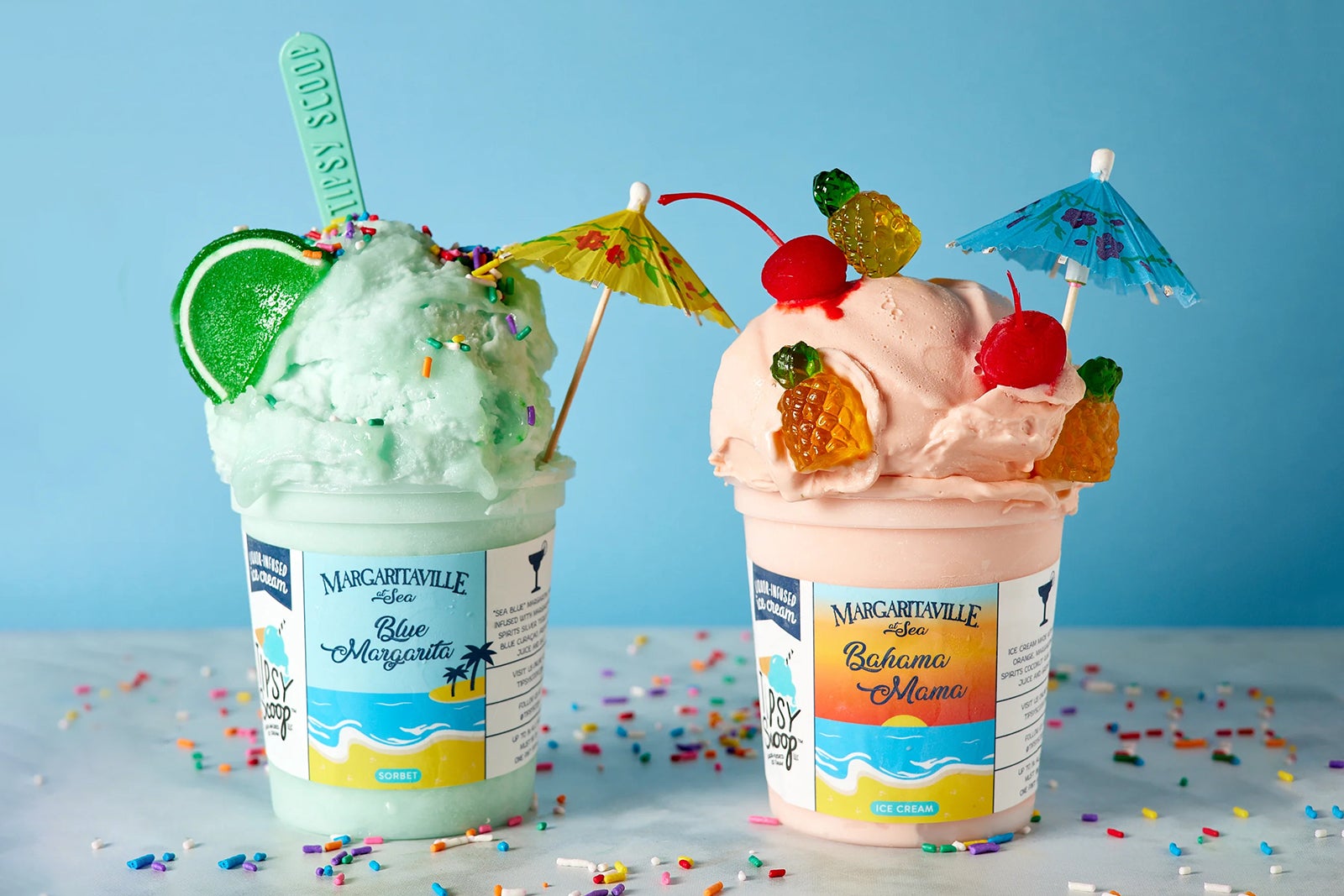 Guests can order the various options, which contain up to 5% alcohol in the vessel's main dining room (Fins), at the ship's Margaritaville Coffee Shop and from a roaming Tipsy Scoop pushcart.
Prices range from $5 for a single scoop of either the sorbet or the ice cream (or $8 for two scoops) to $15 for a full-blown frozen sorbet or ice cream "cocktail."
"We're thrilled to partner with Tipsy Scoop and serve up this unique new signature amenity for our guests," Margaritaville at Sea president and CEO Kevin Sheehan, Jr. said in a statement accompanying the announcement.
"Guests know our amazing bartenders always have booze in the blender, but these new options blend the magic of Tipsy Scoop's artisanal, hand-crafted ice cream with the mastery of a perfectly mixed cocktail for next-level fun with an island vibe."
The alcohol-infused sorbet and ice cream are also available on land at three Tipsy Scoop ice cream parlors, which the company calls "barlours," in New York City. You can order them online, too.
Margaritaville's announcement about adding boozy ice cream concoctions follows in the wake of Virgin's launch of spiked milkshakes at The Social Club bars on its vessels in 2021.
In recent months, Royal Caribbean has also begun touting spiked milkshakes as a feature of a new ice cream venue called Desserted that will debut on its next vessel, Icon of the Seas, in January 2024.
Margaritaville at Sea is a small cruise line that specializes in short, two-night cruises to Grand Bahama Island from Palm Beach, Florida. Its one ship features venues themed around the Jimmy Buffett song "Margaritaville."
Planning a cruise? Start with these stories: